I DIG STORIES
Stories Educational Learning Facilities
Το πρότζεκτ «Μου αρέσουν οι ιστορίες- Ιστορίες Εκπαιδευτικά Εργαλεία Μάθησης " έχει χρηματοδοτηθεί από την Ευρωπαϊκή Επιτροπή, την Εθνική Υπηρεσία της Ιταλίας Indire στο πλαίσιο του προγράμματος Erasmus + Συνεργασία για την καινοτομία και την ανταλλαγή ορθών πρακτικών, Στρατηγικές Συνεργασίες για την εκπαίδευση ενηλίκων.
Εργαλειοθήκη Ψηφιακής Αφήγησης
Η Ψηφιακή Αφήγηση στην Πράξη
Εγχειρίδιο εκπαίδευσης για εργαστήρια ψηφιακής αφήγησης

ΙΣΤΟΡΙΕΣ
Η Ψηφιακή Αφήγηση αναφέρεται σε μια σύντομη μορφή δημιουργίας ψηφιακής ταινίας που επιτρέπει στους συμμετέχοντες να μοιραστούν πτυχές της ιστορίας της ζωής τους δημιουργώντας μια ψηφιακή διήγηση σε προσωπικά, κοινωνικά, διαπολιτισμικά και διαγενεακά θέματα. Είναι μια νέα πρακτική συνηθισμένων ανθρώπων που τη χρησιμοποιούν για να πουν την προσωπική τους «ιστορία» (ψηφιακές διηγήσεις), συχνά δημιουργώντας μια ενδιαφέρουσα και συναισθηματικά δεσμευτική φόρμα.

ειδήσεις
για οποιεσδήποτε πληροφορίες, παρακαλώ επικοινωνήστε με τoν εθνικό συνεργάτη Vardakeios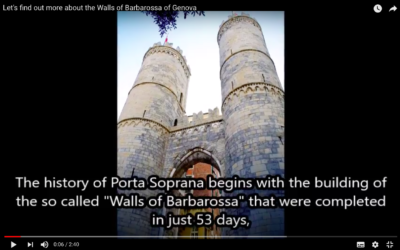 ΕΙΔΗΣΕΙΣ FAI, Italian Fund for the Environment, rewards the digital story made by the class 5D of the G. Mameli primary school from Recco (GE) The winner of the "Scegli l'Italia" contest, promoted by FAI (Italian Fund for Environment), has been announced....

Partners

Diciannove counts 10 associated members, plus various indipendent collaborators. It was established in 2005 as an ICT cooperative company focused to support organizations active in social issues, and it is nowadays active in north Italy

Anthropolis is a public benefit non-profit association, founded in 2002. The organisation intends to strengthen institutional background of education and social and visual anthropological research

Vardakeios School of Ermoupolis started its activities in adult education eleven years ago and at least 600 students have attended one or more language courses so far

Zoe Cooperative was found in 1997 in La Spezia. Its work concernes the management of La Spezia's civic museums' cultural services, by cooperating with the institutions for the planning and the accomplishment of didactic projects addressed to schools and free users.

Danmar Computers LLC is a private company operating in the field of Information Technology and providing vocational training in this field. Danmar has an extensive experience in developing modern Web and mobile applications that are used for educational purposes.

Liverpool World Centre (LWC) exists to make world issues relevant to the lives of young people.