I DIG STORIES
Stories Educational Learning Facilities
Projekt "I dig stories – Stories Educational Learning Facilities" realizowany jest przy wsparciu Komisji Europejskiej oraz włoskiej Narodowej Agencji Indire w ramach programu Erasmus+ Współpraca na rzecz innowacji i dobrych praktyk, Partnerstwa strategiczne w sektorze Edukacja dorosłych.
Opowieści cyfrowe w praktyce
Instrukcja przeprowadzenia warsztatów
Opowieści
Digital Storytelling (DST) refers to a short form of digital film-making that allows participants to share aspects of their life story originating a digital narration on personal, social, intercultural and intergenerational topics. It is a new practice of ordinary people who use digital tools to tell their personal 'story' (digital narratives), often producing a in compelling and emotionally engaging formats.
Aktualności
Więcej informacji na temat projektu można uzyskać u polskiego partnera w firmie Danmar Computers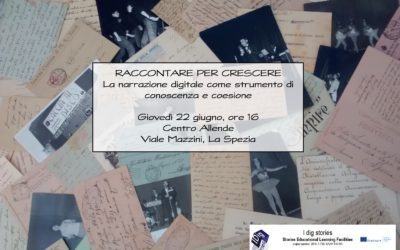 AKTUALNOŚCI Digital storytelling as a tool of knowledge and cohesion We are eager to invite you to the digital storytelling workshop that's going to take place on the 22nd of June at 4 pm in the Centro Allende in La Spezia. The aim of this workshop is to share...
Partners
Diciannove counts 10 associated members, plus various indipendent collaborators. It was established in 2005 as an ICT cooperative company focused to support organizations active in social issues, and it is nowadays active in north Italy
Anthropolis is a public benefit non-profit association, founded in 2002. The organisation intends to strengthen institutional background of education and social and visual anthropological research
Vardakeios School of Ermoupolis started its activities in adult education eleven years ago and at least 600 students have attended one or more language courses so far
Zoe Cooperative was found in 1997 in La Spezia. Its work concernes the management of La Spezia's civic museums' cultural services, by cooperating with the institutions for the planning and the accomplishment of didactic projects addressed to schools and free users.
Danmar Computers LLC is a private company operating in the field of Information Technology and providing vocational training in this field. Danmar has an extensive experience in developing modern Web and mobile applications that are used for educational purposes.
Liverpool World Centre (LWC) exists to make world issues relevant to the lives of young people.